December 4, 2017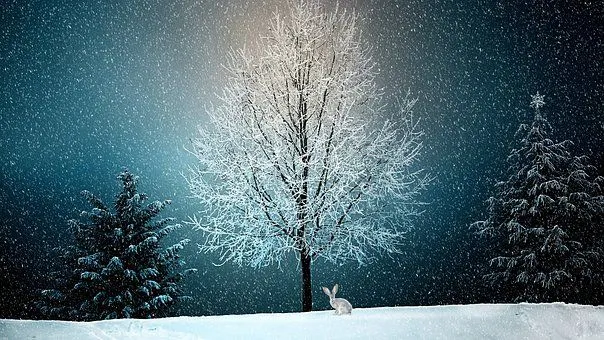 As we move towards the end of the year, and Thanksgiving is past, people turn their attention to other Holidays, Christmas, Kwanza, and Chanukah. These holidays are also holidays based on gratitude. A perennial favorite for those who celebrate Christmas is the movie White Christmas starring Bing Crosby as Bob Wallace, and Rosemary Clooney as Betty Haynes. As their characters begin to develop a love interest, they sing Count Your Blessings (Instead of Sheep). Irving Berlin wrote the song Count Your Blessings because he suffered from insomnia. Irving Berlin explained the lyrics to an executive at 20 th Century Fox about the lyrics:
sometime ago, after the worst kind of a sleepless night, my doctor came to see me and after a lot of self-pity, belly-aching and complaining about my insomnia, he looked at me and said "speaking of doing something about insomnia, did you ever try counting your blessings?"
Later, Irving Berlin incorporated the lyrics and music into the movie White Christmas . This poignant moment in the movie advances the relationship between Bob and Betty, and is a fitting holiday reminder to practice gratitude. Here is a link to the clip where they sing Count Your Blessings (Instead of Sheep)
Recently, when I watched White Christmas , and the song Count Your Blessings reminded me of a hymn from my childhood. Johnson Oatman Jr., wrote the following:
When upon life's billows you are tempest-tossed,
When you are discouraged, thinking all is lost,
Count your many blessings; name them one by one,
And it will surprise you what the Lord has done.
(Chorus)
Count your blessings;
Name them one by one.
Count your blessings;
See what God hath done.
Count your blessings;
Name them one by one.
Count your many blessings;
See what God hath done.
Researchers have studied the effects of gratitude and believe that 50% of a person's movement towards happiness is genetic, 40% can be attributed to intentional practice, and 10% is due to life circumstances. Forty percent is a large percentage and gives humans much room to improve happiness levels. If you had $1000, and someone asked you to give them 40%, you probably would be hesitant to give that much money away. Gratitude is a way to improve the quality of life during the business of the holiday season.
Questions for Reflection:
When do I count my blessings?
What are images, stories, parables, myths that remind me to practice gratitude?
How can I practice gratitude during the busy holiday season?
R. David Johns has a PhD in Counseling Education and Supervision, and a Master's Degree in Mental Health Counseling. He is a Licensed Professional Counselor (LPC) and Licensed Addiction Counselor (LAC) in the state of Colorado. As a counselor and therapist he works with people to better understand the flow of gratitude throughout their life. For an appointment call 303-642-6636 or email at [email protected]
References
(1985). Hymns. Salt Lake City, UT: The Church of Jesus Christ of Latter-day Saints.
Count Your Blessings (Instead of Sheep. (n. d.) In Wikipedia (Retrieved December 2, 2017)
https://en.wikipedia.org/wiki/Count_Your_Blessings_(Instead_of_Sheep)
Wilson, J. T. (2016). Brightening the mind: The impact of practicing gratitude on focus and resilience in learning. Journal of

the Scholarship of Teaching and Learning , 16 (4), 1-13.